Cozy Up With Our Newest Pair of Heated Gloves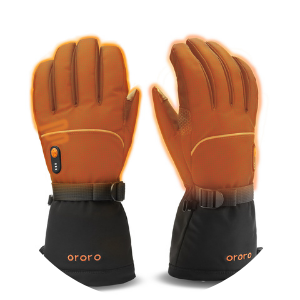 It's that time of the year again! A brand new pair of heated gloves are here to keep your hands toasty at the right price. 
If you're not familiar with our other heated gloves, check them out here and here and here! But we're here to talk about the ALL-NEW Unisex "Buffalo" Heated Gloves, CAD$209. Our newest model keeps your hands just as warm as our other models, but is slightly more affordable!
Featured Favorites
The Buffalo Heated Gloves are touchscreen-compatible, water AND wind-resistant, anti-static and have an incredibly soft fleece lining for ultimate comfort. 
Perfect for any gender, these gloves range in size from Small to X-Large with a durable anti-slip, silicone palm and comfortable padding to keep your hands warm. The battery pockets are discreetly tucked out of the way on the back of each wrist, so you can move your hands freely. 
Other features include:
Reflective strip for night-time visibility

Glove cuff and drawstring closure for securing your gloves

Adjustable wristband for easy convenience

Rechargeable batteries and compact charger
Heated Hands
Now, we get to the good stuff. The carbon fiber heating elements of the Buffalo heated gloves cover the entire back of the hand with a discreet heating wire that helps heat more evenly. With a press of the button, your hands will heat up almost instantly, in preheat mode.
Like the rest of our other incredible products, the Buffalo Heated Gloves have three heating levels:
High: 140℉  / 60℃ (±3℃/ 37℉)~ 3.2 hours of heat
Medium: 122℉  / 50℃ (±3℃/ 37℉)~ 5 hours of heat
Low: 113℉ / 45℃  (±3℃/ 37℉)~ 8 hours of heat
Things to Do
Now that you've thoroughly explored all aspects of the Buffalo Heated Gloves, what can you do with them when you get them? Well, almost anything! 
These gloves are a perfect companion for people who work long hours outside, athletes who train or play in inclement weather, those who frequently shovel the snow, hikers, horseback riders, or, well, you get the picture. Whatever you do outside when it's cold out, now you can at least do it with warm hands!
Snatch up a pair of our new Buffalo Heated Gloves before they're gone!